Our Applications
INSULATED APPLICATIONS
"EPS Panel: still the Preferred Building Solution"
EPS panel has been used extensively in Australia for nearly 50 years. Austral EPS panel is the trusted, economical and fit for purpose building solution for thermal control applications.

REFRIGERATED APPLICATIONS
"The right performance to last a lifetime"
Austral EPS panel has proved to be the most effective choice for both coolrooms and freezers. EPS panel with the right type of installation will stand up to any test, our customers are still demanding more because they know itís the best.

FIRE RATED APPLICATIONS
"Todayís solution to meet industry requirements"
Austral offers installation systems to meet FM Global
Approved guidelines to secure affordable insurance not just for today, but for the lifetime of the building.
A choice of fire rated insulated panel systems is now available, each with their own particular benefits.

ARCHITECTURAL APPLICATIONS
"Design options are limited only by your imagination"
Australís panel is the quality alternative if you are building a modern office, sports centre, warehouse facility or hi-tech industrial building.
View our applications by clicking each heading

INSULATED

REFRIGERATED

FIRE RATED
BUILDING PRODUCTS/ DOORS
"A package tailored for your project"
Australís applications are enhanced by a range of components for individual projects of any size.
The Austral Comnia group have strong buying power and by strategic supply arrangement, can supply specialty double glazed doors and windows, PVC strip or swing doors and rapid roller doors.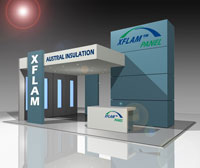 We exhibit at
various trade shows
SEE OUR LATEST PROJECTS BELOW